CommuniBee Update March 26 2019
CommuniBee just keeps getting more awesome! This release: streamlined community setup and user management, plus server optimization for faster performance.
This morning we published our latest rounds of enhancements to the CommuniBee dashboard and server. Here is a quick overview of the changes:
Community Configuration Streamlined
Previously, your community was set up on one page, and it got to be a very long page. We've broken it up, grouping sections together in a way that makes sense, like all things affecting appearance going under Configure Layout, so the app preview is always visible
Configure Layout
This is where you select the features you want to enable in your community, and what you want to call them. This naming you choose will also be reflected throughout the dashboard now (i.e. you might change Amenities to Services)
Security Settings
If you want more control over who can join your community, this lets you specify one of three options:
No approval required: all users immediately have access to your community
Approval always required: users enter a pending state and need to be approved
Email Domains Auto Approve: if users email ends in one of the specified email domains, they are automatically approved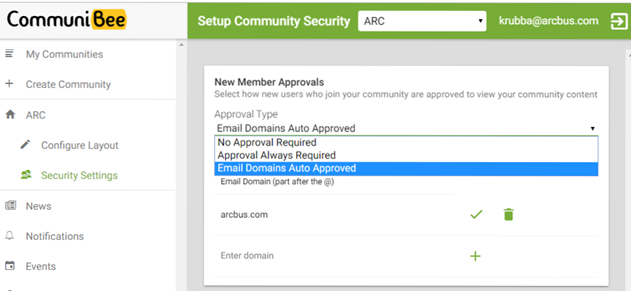 User Management
Bulk Edit
Quickly change the access level of a group of users by uploading a list of email addresses (one email per line) and selecting the access level to apply
We've also added a 'PENDING' tab to manage not-yet-approved members

Performance Optimization
We've made a lot of progress optimizing Comunibee. Recently, we've improved the load times, responsiveness, and server load capacity. That means that your community can handle thousands of users on the app without missing a beat!
Upcoming: Questionnaire Simplification
One change we've been promising is to simplify the questionnaires set up. The new, simpler version will not be compatible with the current app, so we are disabling the questionnaire button for a few days so incompatible questionnaires are not created. The new questionnaire feature will be available shortly along with an update for the app that includes several other minor tweaks and fixes.